In Memory
Tim Connor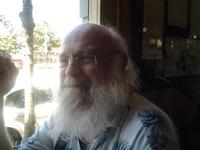 Timothy Joseph Connor passed away on Dec. 15, 2020. Born June 1953 in New Brunswick, NJ to the late Joseph Francis Connor and Elsie Harriett Francis Connor Tim lived life on his own terms always (while some might call that stubborn he would not agree).
He is survived by his beloved wife of 42 years, Lauren Ann Ricker Connor (NEHI Class 1973); his sister Carol Ann Connor Howard (who did her absolute best with him in his youth); his brother-in-law, Richard Lee Howard; a niece, Shannon Varner Alexander; nephews Noel Howard and Brett Howard; great nephews Chase Alexander and Connor Howard; and a great niece Molly Howard.
Although Tim and Lauren elected not to have children of their own early on (because Tim acknowledged that Lauren already had her hands full just with him) they heaped love and attention upon their niece and nephews always and frequently became honorary uncle and aunt to many children they encountered over the course of their marriage. Tim was always Uncle Bear with his jovial sense of humor, his big hands ready to help with any project, and his fuzzy wuzzy face that made children approach him with requests whenever he was out and about at Christmas time.
An OG gamer Tim was active in the gaming world from the days of pen and paper Dungeons & Dragons through the advent of online open gaming worlds right up until his last day on his computer before falling ill on December 6.
Tim never wanted a funeral, a wish he made clear at every funeral he attended, and has asked that his wife and family scatter his ashes. In lieu of flowers encourage anyone wanting to give in remembrance of him consider donations to Gamers Outreach, a charity organized by gamers like Tim to help children during long term hospital or institutional stays find joy and normalcy during challenging times through the worlds of gaming.
https://obituaries.nationalcremation.com/obituaries/clearwater-fl/timothy-connor-9951080?fbclid=IwAR2jTcq6EgxZu0cM-_gNqMjyr8vFV93kqBa6DOf_9DzzrwHuZZQy